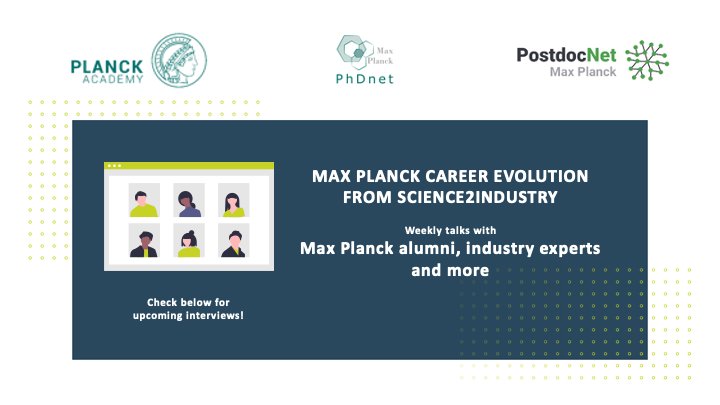 Career Evolution
Web Series: From Science2Industry
The Career Evolution Web Series: From Science2Industry is offered by the Industry Track of the Planck Academy in collaboration with the PhDnet and PostdocNet of the Max Planck Society.
It particularly addresses PhDs, Postdocs and Research Group Leaders but is also open to any interested party of the Max Planck Community and its friends.
Please contact the PhDnet Steering Group if you would like to attend a meeting and don't have the link!
Upcoming events
22.10.20 4pm – 5pm Nataliya Limbach-Malyar – Project Engineer, Outokumpu Nirosta
29.10.20 4pm – 5pm Edith Chorev – Data Sciencist at FactoryPal
05.11.20 4pm – 5pm Chris Armbruster – Data Scientist
12.11.20 4pm – 5pm Daniela Vorholt – Project leader at Miltenyi Biotech
19.11.20 4pm – 5pm Chris Armbruster – Data Sciencist
26.11.20 9am – 10am Yvonne Brockhaus – Planck Academy trainer
10.12.20 4pm – 6pm Nicol Keith/Christoph Köller – Horizon Scanning
10.12.20 4pm – 5pm Rober Ian Etheredge
17.12.20 4pm – 6pm Nicol Keith/Christoph Köller – Horizon Scanning
Past events
23.07.20 4pm – 5pm Isabelle Schiffer - Scientific Spokesperson at Forever Healthy Foundation
30.07.20 4pm – 5pm Victor Bustos - EiR at Apollo Health Ventures
06.08.20 4pm – 5pm Vijay Shankar Balakrishnan - Journalist, Writer, Podcaster, Soft Skills trainer
13.08.20 9am – 10am Anne Grewlich-Gercke – The Industry Track of the MPG
20.08.20 4pm – 5pm Carlos Cristiancho – Corporate innovation at Evonik
27.08.20 9am – 10am Imke Rajamani – Social Science innovators
03.09.20 4pm – 5pm Robert Kraus – From PI to project management
10.09.20 4pm – 5pm Patrick von Born – E.ON Inhouse Consulting
17.09.20 4pm – 5pm Thomas Äskov Pedersen – Scientist at Novo Nordisk
24.09.20 4pm – 5pm Thomas Koch – Science management
01.10.20 4pm – 5pm Martin Ellmers – McKinsey
08.10.20 4pm - 5pm Fit for industry? Recruitment training with Rainer Schmidt-Rudolff from Infineon
15.10.20 4pm – 5pm Chris Armbruster – Data Scientist
15.10.20 5:30pm – 5:60pm Should I stay or should I go – How to decide for or against a career in academia