Hubs and institutes
The Max Planck Society is a vast network of research institutes in and outside of Germany. The institutes perform basic research in life science, natural science and social & human sciences. Doctoral researchers within all these institutes are brought together via the PhDnet. Each institute can be represented by an external representative. Don't you know who your institute's representative is? Check our list and if your institute doesn't have a PhDnet representative and you're interested to join the PhDnet, the Secretary Group is happy to help you.
The Phdnet brings doctoral researchers not only together in a (inter)national setting, but also on a regional level. The local hubs foster the interaction of doctoral researchers working at different MPIs in the same area. Local hubs are a way for representatives of the same region to meet, discuss, and help each other to further improve working conditions at the individual institutes. Additionally, local hubs also organize events for all doctoral researchers to meet, have fun, and broaden their horizon across subject topics. Local hubs organize for example parties, regulars' tables, and as a pilot project in Munich also softskills workshops.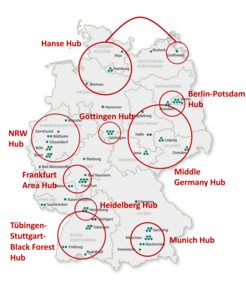 List of international institutes :
Max Planck Florida Institute for Neuroscience, Jupiter, USA
Bibliotheca Hertziana - Max Planck Institute for Art History, Rome, Italy
Kunsthistorisches Institut in Florenz - Max Planck Institute, Florence, Italy
Max Planck Institute Luxembourg for International, European and Regulatory Procedural Law, Luxembourg (not represented)
Max Planck Institute for Psycholinguistics, Nijmegen, Netherlands
Get on your local hub mailing lists or contact your local representative to always be informed what is planned in your area, if your institute isn't in a hub but you would like to join, contact your nearby hub for more details.