N2 - Network of Doctoral Researcher Networks
A network for the future of science
N² [nsquared] unites more than 16.000 doctoral researchers of Germany's non-university research organizations to discuss the future of science – its working conditions, career perspectives and impact on society.
About Us
In March 2017 the Spokespersons of Max Planck PhDnet, Helmholtz Juniors and Leibniz PhD Network released the official letter to create a platform of "Network of Networks"​ called N². This platform is by now an established focal point promoting every topic concerning doctoral researchers.
In 2018, the International PhD Programme at the IMB Mainz joined as an associate member.

N² is not affiliated with any political party, but we are open for exchange with political stakeholders dealing with science policy.
To continually assess the situation of doctoral researchers at non-university research institutions in Germany we intend to run another harmonized survey in 2021.
Our main goals
100 % payment
Doing a PhD is a fulltime job. We advocate for 100% payment for full working hours.
4 year contracts
Many data suggest that a PhD on average takes about 4 years to complete. Therefore we demand 4 year contracts for all doctoral researchers.
Abolishment of stipends
We advocate for financing of doctoral researchers with contracts including social benefits instead of internal, second-party stipends.
Prevention of power abuse
Dependencies of early career scientists from supervisors are manifold. They need to be reduced in order to prevent power abuse, and conflict reporting should be improved.
Board - Elected Representatives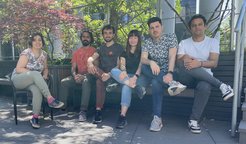 Johannes C. Krämer (Helmholtz Juniors)
Nagesh Jagtap (Helmholtz Juniors)
Saida M. Diaz-Castillo (Leibniz PhD Network)
Eframir Franco-Diaz (Leibniz PhD Network)
Elizaveta Bobkova (Max Planck PhDnet)
Muhammad Osama Iqbal (Max Planck PhDnet)
Gaurav Joshi (IPP)
Lukas Mann (IPP)
N2 Event 2021: Perspectives on open and sustainable research
The next N2 conference will take place virtually from 13th to 15th of October 2021 on focus on open and sustainable research. To find out more about the program or how to register have a look here: Perspectives on Open & Sustainable Research
2019 Harmonized Survey
In 2019, N² initiated a harmonized survey questionnaire which was sent to doctoral researchers in all four member organisations. The aim was to be able to compare the results between the organisations and increase their significance. The survey reports of the three full member networks of N2 can be found below. The report by our associate member IPP is not publicly available due to small sample size.
Max Planck PhDnet Survey Report, Helmholtz Junior Survey Report, Leibniz PhD Network Survey Report
Survey Presentation
On February 4th from 4:00-5:00 pm (English) and February 9th from 2:00-3:00 pm (German), we will present the survey results in video Q&A sessions.
To participate on the day, join the Zoom Webinar here (English, German)