Mental Health Awareness Week 2020 #BreakTheStigma
Events
Start:

Oct 5, 2020

End:

Oct 10, 2020
The Mental Health Collective organized an MPS-wide Mental Health Awareness Week (MHAW) from the 5th to 10th October 2020, in cooperation with University of Jena & Dresden Team, which includes MPI-CBG, DIGS-BB and Dresden Concept.
We adopted a 100% virtual format for higher inclusivity and greater reach.
There is a broad schedule of talks on the topic of mental health in academia, work/life balance, mental health issues, preventative strategies, coping mechanisms and more - something for everyone!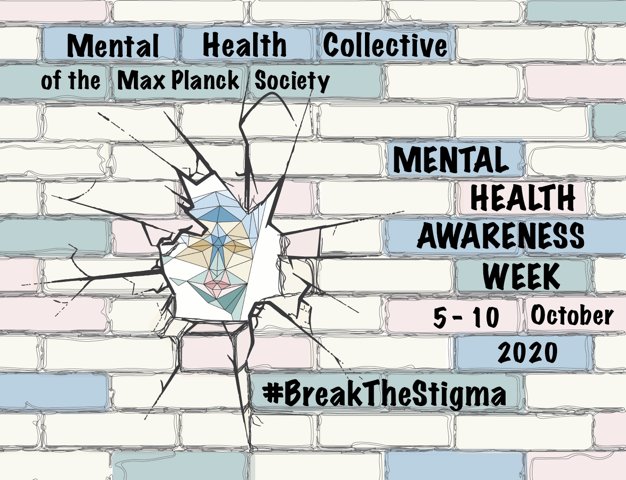 #BreakTheStigma
20% of PhD researchers within Max Planck Society report moderate to severe depressive symptoms - that's roughly 1000 of PhDs - and more that 60% show moderate to high state anxiety (PhDnet 2019 Survey). For those who are struggling, know that you are not alone, numbers don't lie. The more we talk about mental health, learn about it, share our own experiences and pay attention, those among us struggling will feel less alone, less judged and hopefully more comfortable with reaching out for help. Let's talk about it and #BreakTheStigma!
This years has been extremely challenging for everyone, making events such as MHAW more important then ever. We all need to raise awareness around mental health and focus on prevention, learn the indicators of mental health problems. With MHAW, we wish to provide as many MPS employees as possible with the necessary tools to work on and improve their own mental well-being.
Follow us on Twitter: @MPG_MHC
For posts on social media please use: #MaxPlanckMHAW
Schedule
We invited speakers from the Techniker Krankenkasse (TK), mental health consultants who will, together with Max Planck Mental Health Collective, give talks throughout the week, followed by open discussions.
Further, the Collective TeaTime will take place not once, but twice during MHAW! :)

The MHAW finishes off on the International Mental Health Awareness Day on 10th October with a musical performance of "The Society of Imaginary Friends".
Check out the google calendar for this event here.
Hope you will join us for MHAW! Only together we can make a change and break the stigma surrounding mental health.
All Mental Health Collective events can be joined via Zoom at
mpi-biochemistry.zoom.us/my/mhc.mhaw2020
Passcode: MHAW2020
For the events hosted by our partners from University of Jena, please see the details and find the links for participating here.
Jena University

Dresden Team

Monday 05.10.20 10:00

Mental Health Awareness - Impact of Stress on Motivation and Movement, Jérôme Adjallé

Join Zoom Meeting:
https://zoom.us/j/96983830092?pwd=RXhIU1lVWXlFTmFVUktVN3FOcHFYZz09

Monday 05.10.20 14:00-15:30

Monday 05.10.20 14:00

Irrsinnig Menschlich (Madly Human), Leipzig, DE: Interactive Virtual Workshop "Mental well-being in higher education"

Mental Health and Immigration, Carola Schneider
Join Zoom Meeting:
https://us02web.zoom.us/j/88126171545?pwd=V3NsQXdqMEoyY3ZUODMwMHpxcDZNUT09
Join Zoom Meeting:
https://us02web.zoom.us/j/86274325270?pwd=N2o3MEVPQXhyMmN0Zy9EMFVMNzVNdz09

Meeting-ID: 881 2617 1545

Passcode: 061358

Tuesday 06.10.20 15:00-15:30

Dr. Desiree Dickerson, Mental Health Consultant, Barcelona, ES: What do I do if a friend or colleague suffers from mental health issues?

Join Zoom Meeting

:


https://uni-jena-de.zoom.us/j/94646458602

Meeting ID: 946 4645 8602

Passcode: 249179

Wednesday 07.10.20 8:30-9:30

Taster session Life Kinetics. Life Kinetics is a new form of training that combines gentle movements with brain jogging. Try it out for free!

Join Zoom Meeting

:


https://uni-jena-de.zoom.us/j/99135316431

Meeting ID: 991 3531 6431

Passcode: 505124

Wednesday 07.10.20 10:00

Sleep and Mental Health, Isabel Bommer
Join Zoom Meeting:
https://us02web.zoom.us/j/85994613969?pwd=VmdDREpqc0ZtZzJWUzBQbUZlRzZJdz09

Wednesday 07.10.20 14:00

Jobfit Food, Anne Cormann

Join Zoom Meeting:


https://zoom.us/j/99404118617?pwd=U3lTQU9xcHV2c0VNUHdOU0N0cUxZUT09

Wednesday 07.10.20 15:00-15:30

Dr. Olya Vvedenskaya, Max Planck Institute for Molecular Cell Biology and Genetics, DE: Mental Health during the COVID-19 Pandemic

Moderator: Teresa Mayer

Join Zoom Meeting:


https://uni-jena-de.zoom.us/j/94896479833

Meeting ID: 948 9647 9833

Passcode: 013345

Thursday 08.10.20 15:00-15:30

Dr. Nicola Byrom, King's College London, UK: Mental Health and Research Culture

Join Zoom Meeting:


https://uni-jena-de.zoom.us/j/93728549057

Meeting ID: 937 2854 9057




Passcode: 696399

Friday 09.10.20 10:00

Introduction to the main types of psychotherapy, Isabel Bommer
Join Zoom Meeting:
https://us02web.zoom.us/j/82775501235?pwd=dmN5bTh0Nk9IeTBwZ0VTQ09Zc2Zldz09

Friday 09.10.20 15:00-15:30

Prof. Michael Deuschle, Central Institute of Mental Health, Mannheim, DE: The Mental Health First Aid program

Join Zoom Meeting:


https://uni-jena-de.zoom.us/j/91368469156

Meeting ID: 913 6846 9156

Passcode: 122013




Saturday 10.10.20 17:00-18:00

Five-minute impulse presentations from counselling support in Jena and Mental Health First Aid at MPI Dresden. Additional slots possible.

20 minute Performance of "The Society of Imaginary Friends"

Join Zoom Meeting:


https://uni-jena-de.zoom.us/j/94215675382

Meeting ID: 942 1567 5382

Passcode: 708365