N2 Conference:  a vision into the future of science communication
by Ana Rita Costa
On the 6th November 2017, the N2 Science Communication Conference started with the motto "Science beyond borders" at the Museum für Naturkunde Berlin. With around 150 participating doctoral researchers from the Max Planck Society, the Leibniz Association, and the Helmholtz Association, the event was initiated with a presentation by the N2 Board. N2 - meaning the "network of networks" - unites more than 14.000 doctoral researchers of the doctoral research networks: Max Planck PhDnet, Helmholtz Juniors, and Leibniz PhD Network.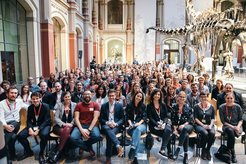 Science Beyond Borders
The current spokespersons of the three networks, who represent the N2 Board, explained how important it is to join forces to promote and deal with issues of doctoral researchers in the non-university research sector. Their focus is on working conditions, career development, supervision, and equal opportunities of doctoral researchers. In this context, the N2 Science Communication Conference was meant to promote the discussion about fact-based science and its communication to the public by experts, like doctoral researchers. Moreover, it came as an opportunity for young researchers to get insights into state-of-the-art science communication as well as to explore new avenues of scientific outreach without neglecting the past.
"We have to communicate with the society – it's our ethical duty as researchers" - Jan-Lucas, Spokesperson from Leibniz PhD Network
Prof. Dr. Johannes Vogel, director of the Museum für Naturkunde in Berlin, did the honors and stressed in his Welcome speech the importance of "innovation with participation". He explained how the ecosystems, and on a bigger scale our planet, is always changing, stressing that it will fall to the younger generations to be the drivers of this change. Prof. Vogel also highlighted the extreme importance of open science policies.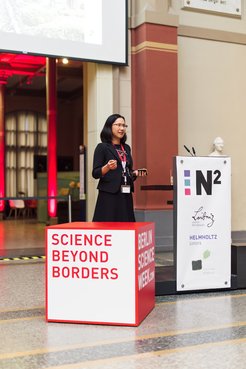 Following the common interest in open science, we heard Dr. Judy Mielke, the editorial program manager at Frontiers. With an academic path quite similar to the one of the attending doctoral researchers, she explained how literature screening has changed dramatically in the past years. Dr. Mielke further highlighted how, nowadays, traditional academic publishing is expensive even though taxpayers have already paid for it. With open access, Frontiers is opening the door to community feedback and interest, as well as many other activities to involve all levels of society.
Following a coffee-break with a poster session among dinosaurs and historical artefacts, the 150 doctoral researchers welcomed 100 public guests as well as journalists and artists to celebrate together a Science Festival in the frame of the Berlin Science Week 2017. All guests had the pleasure to listen to Dr. Sam Illingworth, a Senior Lecturer in Science Communication at Manchester Metropolitan University. Dr. Illingworth opened our minds to the relationship between science and poetry as two different ways of looking at the world. With his poetry he shed light on such diverse topics like the peppered moths, climate change, and nuclear missiles. He even made all of us question the achievements of science.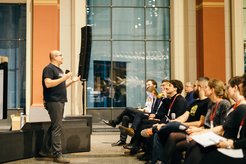 Dr. Sascha Vogel, a theoretical physicist, science communicator, and movie lover introduced us to how Hollywood communicates science. As a physicist he was taught that physics is constant everywhere, but we learnt that in Hollywood things are apparently quite different. In a very amusing voyage, we went through some moments in Hollywood movie history where physics is not considered (at all!). An opportunity to learn that even when millions are spent on movies and millions of people see them, science is not always correctly communicated to the wider public.
Physics is slightly different in Hollywood! - Dr. Sascha Vogel, Managing Director of the Frankfurt International Graduate School for Science
The day ended with the presentation of several objects, projects, and performances provided by doctoral researchers with the aim of bringing science together with art. This part of the program was of special interest since it made the guests go "beyond the borders" in which they usually see science and instead experience it through a different approach.
Putting Science Communication into Practice
The second day of the conference started at the EUREF (Europäisches Energieforum) Campus in Berlin. Here, all doctoral researchers could learn how to improve their science communication capabilities and its implications by attending workshops. The participants were able to choose two of the four provided workshops: "Data Visualization in the Wild" (with Gwilym Lockwood)", "The Art of Presenting Science" (with Gijs Meeusen)", "Impact Training (with Rosmarie Katrin Neuman)", "How to Write a Popular Science Article?" (with Benjamin Denes), and an alternative "Museum Tour at the Gemäldegalerie Berlin" (by Linda Olenburg) with a focus on Italian paintings.
Between the workshops, Dr. Tobias Maier from Nawik gave an inspiring talk entitled "Increasing Impact: How to communicate science to non-specialist audiences". Dr. Maier focused on the importance of writing about current topics from our personal angle and reminded us to always keep our communication in the scope of exactly those who we want to address.
"Communicating science in social media does not hurt your scientific career." - Dr. Tobias Maier, Nawik-Nationale Institut für Wissenschaftskommunikation
The second day ended with a very productive poster session in which many participants applied the knowledge just acquired in the workshops. The topics were so varied and interesting that there could not be a better ending of the day than with a crowded Pub Quiz in the Café Hardenberg.
Future Directions of Science Communication
The third and final day of the N2 Science Communication Conference started with an eloquent talk by Prof. Onur Güntürkün about "Science Communication as Duty, as Art, as Passion". Prof. Güntürkün presented his reasons for why science communication is important, based on his vast experience and encounters during his career as a scientist. He also gave recommendations of how to pursue science communication in a more efficient way, focusing on the careful dealing with the media. In addition, Prof. Güntürkün talked about the ways, in which he actively tries to get his lab members to engage in science communication.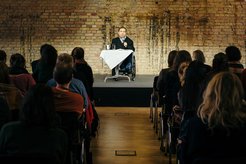 Following Prof. Güntürkün's talk, Prof. Dr. Matthias Kleiner, President of the Leibniz Association, gave an insight into the origins of the N2 Science Communication Conference and contemplated about its success. Furthermore, he stressed how the importance of science communication has grown over the years, especially in light of "alternative facts". He described how social media and digitalization have changed the way scientists and the general society can interact, and that this presents a great chance for communication. In the end, he also emphasized "Citizen Science" as an example of how we can make science communication work.
For the panel discussion we were pleased to have Onur Güntürkün (Neuroscience), Stephan Balzer (TEDx Europe Ambassador), and Sybille Anderl (Astrophysics – philosophy) as guests. The discussion was moderated by Jule Specht (Psychology). (The panel was transmitted live and can still be watched on the N2 facebook page.) All guest speakers explained how they got interested in Science Communication as a hobby during research time and/or simply through their pure love for science. Nevertheless, it was recognized how important it is to have proper training in order to bridge between science and communication. Stephan Balzer also pointed out how young people are generally interested in TEDx talks and that 18 min (the typical TEDx talks time) are more than enough to communicate a clear idea. Fake science and rock-star scientists were also a main focus of the questions from the audience. In this context it was stressed how important it is to have trustworthy role models in science to combat fake-facts and fake-science.
"How do you evoke the passion of the people?" - Sybille Anderl
"We try to bring together the person and the science the person is interested in. We have the tendency to use data, whereas we do not connect the data to a person." - Stephan Balzer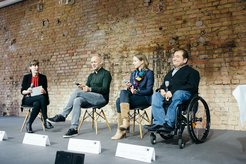 All the doctoral researchers looked fulfilled by the end of the N2 conference, pointing out that "It was very nice to see balanced panels and presenters!", and with approximately 95% of them answering that they are eager to devote time to science communication in the near future.
Last but not least, it is important to thank everyone for taking part and making the event happen! Many thanks to all the participants and speakers, but mostly to the "mother associations": Helmholtz Association, Max Planck Society, and Leibniz Association. The event helped a lot of doctoral researchers to broaden their views on science communication and made them understand it as a part of their duty as scientists. We have to communicate to both: to our peers, but also to the non-expert public.
All photos © Kai Müller