General Meeting 2021
News
Start:

Oct 25, 2021

End:

Oct 27, 2021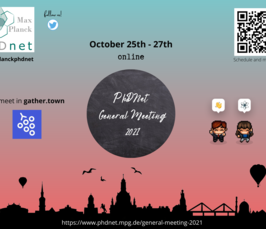 Yearly the Doctoral Researchers from across the MPG gather at the PhDnet General Meeting. This year the meeting will be held virtual and is hosted from Dresden, from 25th till the 27th of October.
During the meeting we will have dedicated sessions on:
Diversity
Mental Health (and diversity)
PhD Science talks
Open(ing) Science (open science and science communication)
Working Conditions
PhDnet Elections
Alongside, all the usual activities relating to the MPG and PhDnet, with introductions to the different structures and work groups of the PhDnet.
Keep an eye out on the site for any updates.
All PhD Researchers within the MPS are invited to the General Meeting 2021. Your institutes external representative will forward you the details as sign-up link and the booklet.
Please be aware that only after sign-up you will receive the link to participate. You are interested in joining, but you haven't received the sign-up link through your external representative? Contact us via: general.meeting@phdnet.mpg.de
Always use the gather.town link to enter the meeting environment, from there you can explore, network and join the talks (via zoom).
Below you will find the program for the meeting. It's an interactive schedule* (click the different items and a small description will appear).
*be aware that changes to the schedule may occur, please use this schedule as your programm for the meeting.
Monday: October 25th
 
OPENING
09:00-10:30
ZOOM

Welcome Message from the General Meeting Group and Steering Group:

A warm welcome by the organisers (the General meeting group) and the Steering group of the PhDnet, to the Phdnet event of the year. The Meeting is a place for all MPS PhD Researchers to get to know the MPS and each other. This year's meeting is hosted virtually from Dresden.

Join us during these 3 days, and get informed on what happened within the network the past year and what's in store for the future.

X

>

<

Technical Introduction and Program Presentation:

This year we are using gather.town as our main platform. We, briefly, want to get you up to speed with all it's features and which interesting speakers/sessions/events we have in store for you on this day. This year we cover not only the structures within the PhDnet and MPS General Administration that can make your life as a PhD researcher easier, but for the first time we are showcasing the wide diversity of research conducted by PhD researchers within the MPG.

For a summary of meeting check out the booklet, follow the link

X

>

<

Introduction to the PhDnet:

The PhDnet is the network of all PhD Candidates and PhD representatives of the Max Planck Society. Here you get to know 'who the PhDnet is', 'what the PhDnet has done/is doing' and 'how you can get involved'.

Want to know more about the PhDnet? follow the link

X

>

<

Introduction to the Survey Group:

The Survey group is an integral part of the PhDnet as it conducts annual surveys with current PhD researchers within the Max Planck Society (MPS). These surveys provide an invaluable body of data that allows the PhDnet to make informed decisions about the future course and goals for the PhD researchers and our relationship to the MPS General Administration.

Want to know more about the Survey Group? follow the link

X

>

<

Introduction to the Equal Opportunity Group:

The Equal Opportunity Group is the dedicated workgroup of the PhDnet supporting PhD researchers in all matters related to Equal Opportunities. Working on different initiatives simultaneously, for example: Mental Health, Gender Equality, 'Safer spaces', MPQueer and many more.

Want to know more about the Equal Opportunity Group? follow the link

X

>
Break: 10:30-11:00
 
DIVERSITY
11:00-13:00
ZOOM

<



Welcome Address from the General Administration and input on diversity in the MPS by Dr. Asifa Akhtar (Vicepresident MPS)

Dr. Asifa Akhtar will take over the welcome part from the MPS General Administration side this year!

Additionally, as the first international female Vice President of the Biology and Medicine Section in the Max Planck Society and part of the Presidential Commission for Equal Opportunities, she will present us with her insights on the topic of diversity during her talk.

X

>

<

---

Introductory Presentations from the PhDnet working groups:

Renee Vieira (Survey Group PhDnet):
Presenting the 2020 PhDnet survey results relating to the topic diversity.

For the full 2020 Survey Report follow the link







---

Grace Ho (Equal Opportunities Group PhDnet):

Introducing "Safer Spaces", a new initiative within the MPS. Creating safe spaces for people to talk or find support within the institutes when it comes to discrimination, conflicts and other problems in the workplace.

X

>

<



Diversity in the MPS by Frauke Logermann (Talent, Gender & Diversity at GV MPS)

Frauke Logermann, the MPS Manager for Talent, Gender & Diversity, will present to us a short summary of how diversity is addressed inside the MPS.

X

>

<



Structured Panel Discussion:

Experts on diversity from in- and outside the MPG engage in a panel discussion.

Moderated by Sarah Young (Deputy Spokesperson of the PhDnet Steering group)

Panel members:
Dr. Asifa Akhtar (Vicepresident MPS),
Frauke Logermann (Talent, Gender & Diversity at GV MPS),
Renee Vieira (Survey Group PhDnet),
Jan Klenke (N2), and
Yu-Xuan Lu (PostdocNet)

X

>

<



Open Question Round:

During this open question round you can ask question related to diversity to our panel of experts.

 

 

X

>
Lunch: 13:00-14:00
MENTAL
HEALTH
14:00-15:00
ZOOM

<



2 PhD science talks with a link to Diversity and Mental Health:

Sanja Bökle (MPI for the Study of Religious and Ethnic Diversity)

Intersectional advocacy: civil society organizations in times of singularization & diversification

---

Lukas Anneser (MPI for Brain Research):

There are other fish in the sea: Social density encoding by the neuropeptide Pth2

X

>

<

Survey Group Presentation on Survey Results connected to Mental Health:

Alina Fahrenwaldt (Survey Group PhDnet):
Presenting the 2020 PhDnet survey results relating to the topic Mental Health.

For the full 2020 Survey Report follow the link

X

>
Break: 15:00-15:30
 
NETWORKING
15:30-16:30
GATHER.
TOWN

<

Exchanging Ideas about Mental Health:

In the style of a Mental Health Collective TeaTime: Talk, discuss and share your input regarding Mental Health and Science. Come and have a look in the dedicated Mental Health rooms in gather.town.
Kindly supported by the Mental Health Collective, follow them on twitter

Simultaneously you can get to know the PhDnet workgroups and network with one another in gather.town



X

>

<

Getting to know the PhDnet workgroups:

Each workgroup of the PhDnet has a dedicated room in gather.town where you can interact with members of these workgroups. Visit the various workgroups that spark your interest, talk with their members to get to know more about the group and their work, and... consider joining them.

Want to know more about the different workgroups? follow the link

Simultaneously you can meet in the dedicated Mental Health rooms and network with one another in gather.town

X

>
<

Join us for our social get-together at the Beach in gather.town. bring drinks and snacks, we prepared music and games (gather.town lounge).

Close this first day of the Meeting with a bang!

X

>
Tuesday: October 26th
WORKING
GROUPS
09:00-10:30
ZOOM

<

Introduction to the Career Development and Conference Group:

The Career & Conference Group has two focuses, which are carried out by subgroups: 1) career development and 2) conference organization for doctoral researchers in the Max Planck Society. Furthermore, we organize the Career Evolution Web Series, this is a Science2Industry Webinar Series in collaboration with the PhDnet Steering Group, PostDocNet and Planck Academy.
For the Schedule of the webinar series follow the link.

Want to know more about the Career Development and Conference Group? follow the link

X

>

<

Introduction to the Webgroup:

We are responsible for maintaining the PhDnet website, the mailing lists and to provide web support to all other workgroups.

Want to know more about the Webgroup? follow the link

X

>

<

Introduction to the Secretary Group:

The main task of our group is to collect and disseminate important information to all doctoral researchers in the Max Planck Society. In addition, the secretary group helps every Max Planck Institute with the election of their External Representative.

Want to know more about the Secretary Group? follow the link

X

>

09:30-10:30
GATHER.
TOWN

<

Getting to know the PhDnet workgroups:

Each workgroup of the PhDnet has a dedicated room in gather.town where you can interact with members of these workgroups. Visit the various workgroups that spark your interest, talk with their members to get to know more about the group and their work, and... consider joining them.

Want to know more about the different workgroups? follow the link

simultaneously network with one another in gather.town

X

>
Break: 10:30-11:00
PHD
SCIENCE
11:00-13:00
ZOOM

<



PhD Journey Talks on 'How to successfully do a PhD?':

How did the PhD's below complete their, with excellency awarded, PhDs? What were their highs and lows? Get advice, tips and much more from:

Rafael Laso Perez (Spanish National Centre for Biotechnology)

---

Elena Redaelli (MPI for Extraterrestrial Physics)

---

Stephanie Theves (MPI for Human Cognitive and Brain Sciences)

X

>

<



PhD Science Talks on 'This is my fascinating PhD Project!':

Join us for this year's science contribution, showcasing the diversity of research performed by you, accross the different sections of the MPS.

---

Biology and Medicine Section:

Magda Cardozo Mino (MPI for Marine Microbiology)

Sea ice microbial communities and adaptation to climate change

Sharma Ninadini (MPI for Biophysical Chemistry)

The mechanisms underlying the age-related decline in female fertility

Miriam Lucke (MPI for Developmental Biology)

oomycete Hyaloperonospora arabidopsisdis and Arabidopsis thaliana, variation of virulence proteins and their impact on host resistance and susceptibility

Maren Nattermann (MPI for Terrestrial Microbiology)

Engineering a Highly Efficient Carboligase for Synthetic One-Carbon Metabolism

---

Chemistry, Physics and Technology Section:

Fengmin Zhu (MPI for Software Systems)

Proof assistant-assisted research

Dominik Rattenbacher (MPI for the Science of Light)

Coherent coupling of single molecules to a chip based optical circuit

Michal Moravec (MPI for Chemical Physics of Solids)

Directional ballistics in ultra-pure delafossites

Komal Bhattacharyya (MPI for Dynamics and Self-Organization)

Title t.b.a

---

Human Science Section:

Elena Brivio (MPI of Psychiatry)

Sex shapes cell-type-specific transcriptional signatures of stress in the mouse hypothalamic paraventricular nucleus

Rodrigo Barquera (MPI for the Science of Human History)

The Africans from San José de los Naturales, Mexico: an example of a conversation among disciplines

Marlijn ter Bekke (MPI for Psycholinguistics)

Hand gestures speed up responses to questions

Hanna Ringer (MPI for Human Cognitive and Brain Sciences)

Perceptual learning and recognition of random acoustic patterns

X

>
Lunch: 13:00-14:00
OPEN
SCIENCE
14:00-15:00
ZOOM

<

Introduction to Open Science Group:

The PhDnet Open Science group aims to make research at the MPS more accessible, transparent and reproducible. From this broad goal, we focus on the challenges that early career researchers may encounter to make their science more open, and therefore, to impact the future of academy and science.

Want to know more about the Open Science Group? follow the link

X

>

<

Open Science Practices in the Max Planck Society:

Join the dedicate talk by the Open Science workgroup on Open Science Practices to hear more about their work, the state of Open Science at the MPS, and opportunities to learn more about Open Science practices and scholarly communication.

X

>
Break: 15:00-15:30
SCIENCE
COMMUNICATION
15:30-17:30
ZOOM

<

Introduction to the Offspring Group:

Acknowledging the strength in unity and communication, the Offspring group has designed a platform where ideas can be expressed and experiences shared. Not only does Offspring produce an annual newsletter but also fosters the frequent publication of articles on our website.
For the Offspring Blog follow the link.

A small subgroup of the Offspring has created the Offspring podcast in which they want to make the process of getting a doctorate more transparent and raise awareness about possible career opportunities for doctoral researchers inside and outside of science.
For the Offspring Podcast follow the link.

Want to know more about the Offspring Group? follow the link

X

>

<



A Brief Welcome to the Science Communication Universe and more:
Offspring will takes us on a journey through the science communication universe!


X

>
<

Join us for our Pub Quiz at the Beach in gather.town. You bring the drinks, snacks and braincells, we prepared the quiz.

Close this second day of the Meeting in style!

X

>
Wednesday: October 27th
WORKING
CONDITIONS
09:00-10:30
ZOOM

<

Survey Presentation on Working Conditions:

Paul-Georg Majev (Survey Group PhDnet):
Presenting the 2020 PhDnet survey results relating to the working conditions of the PhD researchers.

For the full 2020 Survey Report follow the link

X

>

<



Address by Kerstin Dübner-Gee (Head of MPS Department: Human Resources, Development & Opportunities) on working conditions for doctoral researchers in the MPS:

Together with the General Administration of the MPS, the PhDnet is working on improving the working conditions and scientific environment for doctoral researchers. Kerstin Dübner-Gee as head of human resources in the MPS will give us her perspective on what is happening inside the MPS and how these topics are focused on.

X

>

<



Signe Tuborgh (MPS Human Resources Development Manager) on 'Onboarding':

To enable well informed application and decision processes for prospective doctoral researcher and smoothen the beginning of one's PhD, an onboarding task force entailing the General Administration as well as the PhDnet and the Postdocnet, has formed. Signe Tuborgh will introduce the ongoing project and explain what is planned to be included.

X

>

<



Open Question Round:

During this open question round you can ask question related to working conditions and 'Onboarding' to our experts.

 

 

X

>
Break: 10:30-11:00
 
ELECTIONS
11:00-11:20
ZOOM

<

Introduction to the General Meeting Group:

Did you like the meeting so far?

That's all because of the hard/good work of the General Meeting workgroup. The General Meeting is the event that brings together all PhD researchers of the MPS. During the meeting attendees can exchange information, experiences and discuss common problems of PhD researchers within the MPS.

Want to know more about the General Meeting Group? follow the link

X

>

<

Open Call for new PhDnet Volunteers:

Did the meeting spark interest in one of our working groups? Maybe you're even up for organizing our next general meeting? Don't be shy and inform the workgroup you're interested in during the next gathering.

Do you believe the PhDnet is missing an important workgroup? This is your time to propose a new workgroup and gather like minded people.

X

>

11:20-12:00
GATHER.
TOWN

<

Get to know the PhDnet:

Considering to become a Steering Group member? This is your last chance to get information about the different roles and ask questions to the current Steering Group members.

Considering to become a workgroup member? Maybe you would like to organize next years General Meeting? Introduce yourself to the workgroups of your interest (note: you can also become a workgroup member during the year).

X

>

12:00-13:00
ZOOM

<

Elections - Call for Candidates:

The call for candidates to become Spokesperson or Deputy Spokesperson of the Steering Group 2022. The position is open to any PhD researcher within the MPS.

X

>

<

Election of Spokesperson and Deputy Spokesperson:

Be aware that only External Representatives (or their official proxy) can vote for new Steering Group members.

X

>
Lunch: 13:00-14:00
ELECTIONS
CONTINUED
14:00-15:00
ZOOM

<

Elections - Call for Candidates:

The call for candidates to become General Secretary of the Steering Group 2022. The position is open to any PhD researcher within the MPS.

X

>

<

Election of General Secretary:

Be aware that only External Representatives (or their official proxy) can vote for new Steering Group members.

X

>

<

Election of 'Human Science', 'Biology and Medicine' and, 'Chemistry, Physics and Technology' Section representatives:

The call for candidates and election will happen per section. The position is open to any PhD researcher within their respective section, to which their institute belongs.

Be aware that only External Representatives (or their official proxy) can vote for the Steering Group section representative to which their institute belongs.

X

>
 
CLOSING
15:00-16:00
ZOOM

<

Recognition of workgroups:

Shining a spotlight on workgroups and their integral members, who have been an important part of the PhDnet through their various actions/initiatives.

We want to thank the ones leaving and welcome the ones starting or forming to conclude our general meeting that would not have been possible without them.

X

>

<

Summary and closing remarks:

Summary of the meeting and outlook to the new year, followed by short goodbye from the current Steering Group.

See you next year for the PhDnet General Meeting 2022!

X