Uniting Doctoral Researchers across Germany in a three-day online event format
October 13th – 15th, 2021
The N² Event 2021 brings together doctoral researchers from all across Germany through an innovative online format. It aims to prepare doctoral researchers for a sustainable research career and to provide networking opportunities across the research institutions represented by N2.
This year's N2 Network event connects early career researchers from the humanities, natural and social sciences. Bringing together inspiring speakers, trainers, and experts from fields like politics, economy, natural sciences and communication the N2 event will engage in topics around open science and sustainability. Interested in how to communicate research results in an open and accessible way? Looking to build a more sustainable career or work more sustainably? Then this is for you!
Within three days, the online event provides insights on open science publication channels, sustainable career planning, funding possibilities, and offers great opportunities to network. It gives early career researchers of the N2 member organizations the unique possibility to get in touch with peers beyond their own institutions and to exchange with stakeholders in academia and beyond. Additionally, we reserved some spots for early career researchers from the associate and guest members of the network. The N2 Event 2021 aims to empower participants to grow their network and to offer perspectives on their future in or outside of academia.
Registration:
You can register for the event here:
Participants:
This N2 Network Event 2021 is open to all PhD researchers from ...
... the full members of the N2 - Network:
... and its associate and guest members:
IPP Mainz
Technical University of Munich (TUM)
Friedrich-Alexander-Universität Erlangen-Nürnberg (FAU).
Program Information
The program features keynote speakers, panel discussions as well as parallel workshop sessions in small groups and includes plenty of time for networking.
Days 1-2 (October 13 and 14): Perspectives on Open & Sustainable Research.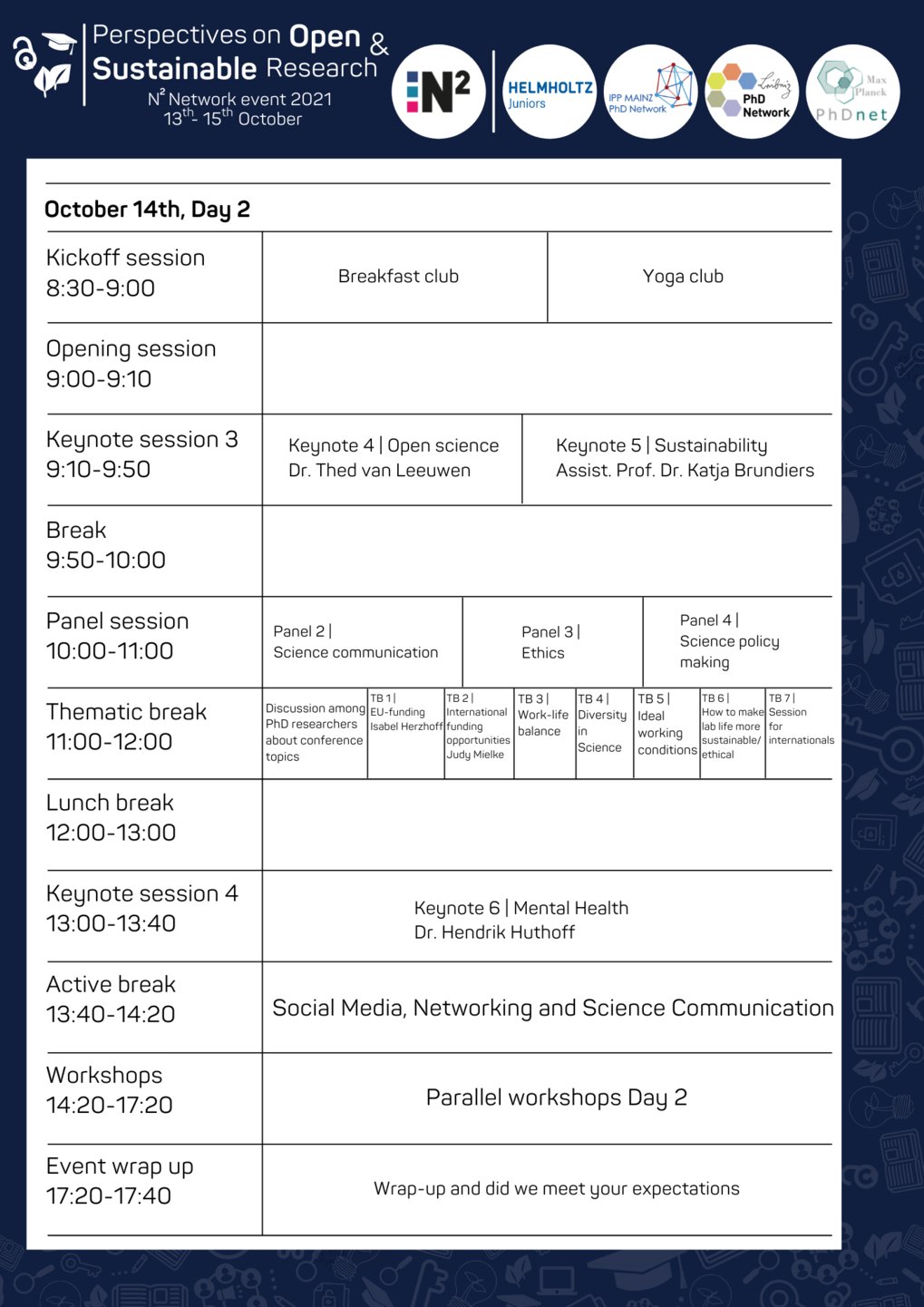 Day 3 (October 15): Career Development - Skills and Perspectives.
Workshops and Panels: